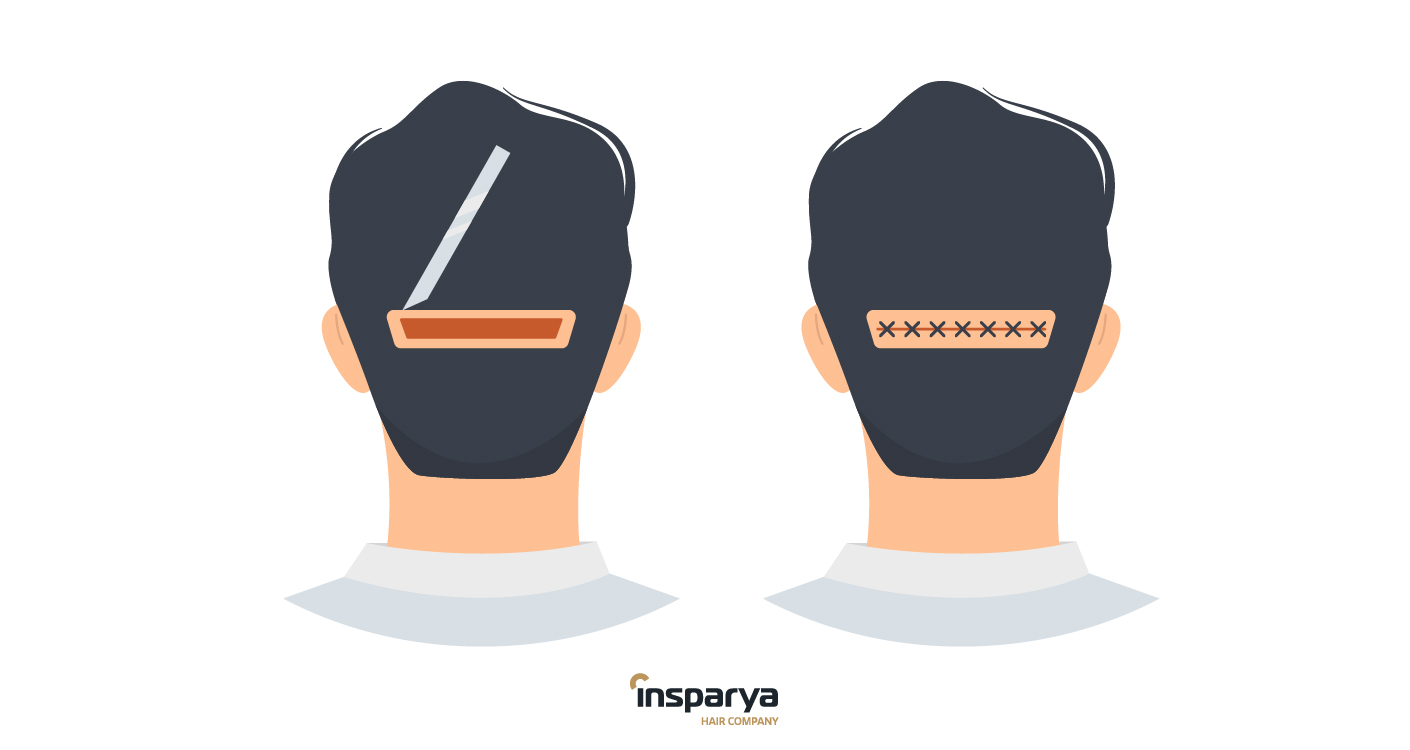 Donor area: what is it?
Today there are many hair and pharmacological treatments to prevent and stop the progression of alopecia. They can improve hairdensityand stop hair loss very effectively. However, the only definitive option to recover lost hair ishair transplantation. This painless surgery consists of the transfer of follicular units from the donor area (occipital and temporal) to the anterior, upper and crown of the scalp, which are usually the areas that suffer the most from alopecia. This is the procedure behind theFUE (Follicular Unit Extraction) technique, the most advanced form of hair transplantation. At Insparya, we are experts in this procedure, which offers the best results.
A good donor area is key to a successful hair transplantation
The donor area is not affected by the hormones that cause hair loss. Nor does it have a genetic predisposition that triggers hair loss. Since the two main causes ofandrogenic alopecia, the most common cause of alopecia, are not present in these areas, the transplanted hair won't fall out again. Therefore, the donor area is the part of the head chosen to extract follicular units for the transplant.
Before programming the intervention, it's essential to determine the state of the donor area and manageexpectations regarding the transplant. It's the only way we can be sure that you are a good candidate for a hair transplant. To be considered a good candidate, the extraction should not compromise the density of the donor area and it must be possible to effectively repopulate the recipient area.
A good quality donor area is one with a high density of follicles per cm². Likewise, thick, dark-coloured hair will always have a better aesthetic result than fine, light hair, although in either case, sufficient density is decisive.
The skill of the expert is essential to achieve a natural result. Although the donor area usually has an average density of between 80 and 100 follicular units per cm², what is sought with the transplant is to achieve a minimum of 45 follicular units per cm². This amount allows a good density to resolve alopecia.
What is the maximum number of follicular units that should be extracted from the donor area?
The maximum amount depends on the patient. Each donor area has its particularities which determines the number of follicular units that can be extracted. Hence the importance of the prior analysis, after which it's advisable to state in writing how many units will be transplanted.
It's important to accurately define the area to be repopulated and that it's not too big for the donor area to be able to supply. If not, we run the risk that the follicular units are placed very far apart from each other, resulting in sparse hair growth. That's why it's better to limit yourself to covering a smaller area more densely. Keep in mind that from a level V on theNorwood-Hamilton scale,it is not possible to achieve 100% coverage of the area with alopecia in a single intervention.
If you've already had a transplant but you didn't get the result you were looking for, you can undergo a second or third intervention to obtain more density. But keep in mind that there is a risk of depleting the donor area, so the maximum extraction limit must be respected so as not to cause a visible loss of density in this area. If this does occur, an aesthetic improvement can be achieved withtrichopigmentation. This technique consists of introducing pigments into the scalp to simulate greater density. It's simple and painless and you'll get very natural-looking results.
If you need to improve your appearance after a transplant that has left you unsatisfied, we recommend that you choose very carefully where to do the new hair transplant. A clinic with expert professionals and the most advanced technology will guarantee you the best result with a single intervention.

What happens to the donor area after a hair transplant?
One of the most frequently asked questions about the donor area is whether the hair density will fully recover or if there will be visible marks. The density will recover in a short time after the intervention, but you can undergohair treatmentsto strengthen and nourish the hair. Hair mesotherapy (MesoHair),Platelet Rich Plasma (PRP)andlow-level laserare recommended, whether applied individually or jointly. Likewise, your specialist doctor can recommend treatment withMinoxidil, Finasteride orDutasteride.
And there's no need to worry about scars if you undergo a transplant with the FUE technique. It's a non-invasive and very safe intervention. So much so that you only need local anesthesia and it is considered an outpatient surgery. There's only one session with minimal incisions, so no sutures are necessary In addition, it normally takes no longer than a week to fully heal.
It's a big improvement on previous methods like strip (FUT), which did require stitches, took almost a month to heal and could even cause a loss of sensitivity in the donor area and marks that are difficult to cover with hair. The FUE technique completely eliminates these risks and achieves very natural results and although meticulous and requiring longer sessions, it can be done in one day. In addition, it allows you to wear your hair very short if you wish, since you will not have to hide any scars.
If you have alopecia, consult with the Insparya experts now, so they can determine exactly what type of alopecia you suffer from and what the most appropriate treatment is for your particular case. If you suffer from androgenic alopecia, we can offer you a medical team that specialises in hair transplants, state-of-the-art facilities and premium operating rooms, where we have already performed more than 40,000 interventions. Insparya is amedical clinical group specialising in hair transplantationwhere you will be attended to by a multidisciplinary team that will treat your case in a completely personalised way.