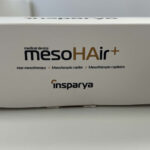 Exclusive formula: Insparya Mesohair+
Hyaluronic acid, which settles into the hair fibre produced and make it more hydrated and resistant to breakage and loss.
5-alpha-reductase inhibitors (anti-androgenic factors), which locally block the harmful effect of testosterone on hair production, preventing its transformation into dihydrotestosterone (DHT). They help stop androgenic alopecia.
Vitamins, proteins, and mineral salts, which are used for hair production from the very beginning.
Growth factors, which stimulate the Follicular Units to produce stronger, more resistant hair.
Antioxidant factors, which reduce oxidative stress and thus slow follicular ageing.