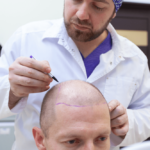 What is the scalp micropigmentation technique?
This technique consists in injecting a small amount of pigment in the superficial layer of the scalp dermis in order to achieve a natural aspect. This procedure is almost painless and, without doubt, it is a sound therapeutic option and it is the best choice to cover bald spots, for example, those caused by scars.
As a complement to hair transplant, it provides wider extensions in weak donor area.  Micropigmentation may be carried out in the recipient area where we have carried out a micro-transplant for it to look fuller, or in the donor area, when we have extracted a number of hair follicles for it to look fuller as well.
This procedure is carried out 2 or 3 times, one hour per session approximately, if it is a small area.  Larger areas may take longer, depending on their size. Since it is a painless procedure, it is relatively simple and fast.
More specifically, this technique reaches a depth of 0.25 to 1.75 milliliters into the skin. Therefore, it provides the desired look without damaging the scalp.
Once the procedure is over, the scalp may be slightly irritated or swollen due to the use of needles, but there is no need to worry. In just a few hours, the scalp will go back to its normal condition. It is possible that some pores expel excess ink but this will not affect the final result.