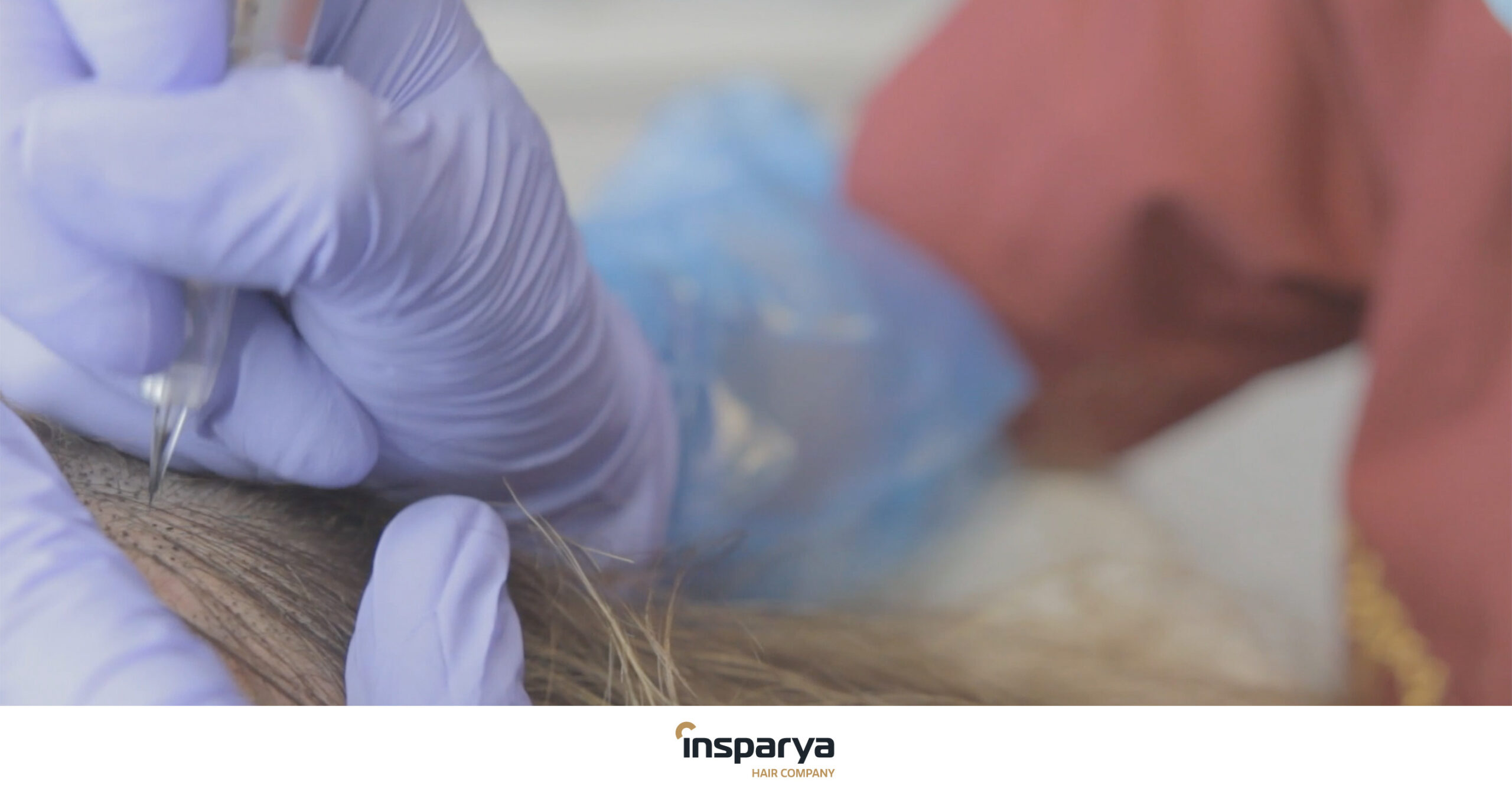 Hair micropigmentation: What is it?
Hair micropigmentation or trichopigmentation is a non-surgical, semi-permanent technique that simulates hair growing from the scalp. The effect is achieved by introducing pigments of different shades into the skin with different angles of penetration, thus achieving as realistic a result as possible.
What is hair micropigmentation?
Hair micropigmentation helps hide scars, gives the effect of greater hair density, and creates a shaved look in the case of the total and cicatricial forms of alopecia.
It is also used to restore other areas. Thus, trichopigmentation for the eyebrows and beard is quite common and offers very good results, especially if combined with a hair transplant in these areas.
In short, we can say that the main objectives are to modify, correct, beautify, and rebalance certain body features in a semi-permanent way by implanting pigment in the skin.
Who is micropigmentation recommended for?
Trichopigmentation or hair micropigmentation is useful for people who want to hide scars as a result of extraction procedures or follicular transplants not performed correctly. If you undergo a hair transplant at Insparya, this will not happen to you; any marks we leave are entirely imperceptible.
However, this is not always the case, especially if the surgeon does not have the necessary experience and training. Thus, hair transplant scars are the most common type of marks that clients want to cover up with micropigmentation. However, hair micropigmentation in women and hair micropigmentation in men can also be used to conceal scars caused by an injury or surgery.
Don't forget, hair transplantation is full-fledged surgery. It requires an invasive procedure with incisions made by surgical instruments. Scar tissue naturally forms a protective barrier over any cut or injury. This is the body's effort to replace cells that have been destroyed. Unfortunately, scar tissue doesn't have the same elasticity and flexibility as healthy skin.
Why is hair micropigmentation done?
If you experience thinning of the hair or are experiencing symptoms of alopecia, scalp micropigmentation is a good option to restore the look of natural hair. This non-surgical procedure can aesthetically complement conventional treatments for hair loss, and it offers exceptional results.

What is hair micropigmentation?
Hair micropigmentation is a tattooing technique that was first used to draw freckles and transform eyebrows without volume into defined arches. Now, this procedure has evolved and is also used on the scalp; professionals ink thousands of tiny dots to imitate hair follicles.
The technique consists of injecting a small amount of pigment into the superficial layer of the dermis in the scalp area, with the main objective of simulating the appearance of shaved hair. This procedure is virtually painless, and it is undoubtedly a good option to cover thinning areas by giving the appearance of shaved hair if there is no donor area for a transplant. It's also useful for patients who want a denser appearance in areas that have already received a transplant or to hide small patches in areas of short hair, such as areas with scarring.
When used as a complement to a hair transplant, it can cover wider areas if the donor areas are weak and won't allow for a successful transplant. Likewise, micropigmentation can be performed in the recipient area where a hair microtransplant has already been performed to give the appearance of greater density. It can also be done in the donor area for the same purpose of increased density.
How long does micropigmentation last?
Although the duration of hair micropigmentation varies according to each person, it often doesn't require a touch-up until after 3 to 4 years.
How long does the hair micropigmentation procedure take?
The professional will evaluate the hair loss and ask the patient several questions to determine if they are a good candidate for hair micropigmentation. If they are an ideal candidate, the professional will explain how to prepare for the procedure.
You can also ask any questions you have during the first visit. The duration of each session is usually one hour if a small area is to be micropigmented, but this time increases for larger areas.
For more detail, this technique reaches a depth of 0.25 to 1.75 millimetres in the skin. This makes it possible to achieve the desired image without damaging the scalp.
How many micropigmentation sessions are needed?
This technique is performed 2 to 3 times, with each session lasting approximately 1 hour for small areas. Otherwise, it could take longer, depending on the size of the area being treated. Since it is painless, it is a relatively quick, simple process.
Does hair micropigmentation hurt?
Hair micropigmentation treatments for women and men are fast and virtually painless.
How long does it take for the scabs from the micropigmentation procedure to fall off?
Scabs do not typically appear with micropigmentation. Once the process is finished, the scalp may be slightly irritated or inflamed due to the use of the needles, but this is no cause for concern. After a few hours, the scalp will return to its normal state. Some pores may expel excess ink, but this will in no way affect the final result.
How do I take care of the area treated with hair micropigmentation?
After hair micropigmentation, the only thing needed to care for the area is a petrolatum-based moisturiser, such as Aquaphor or Vaseline, applied twice a day. 

What should I not do after hair micropigmentation?
After hair micropigmentation, it is advisable not to wash the area, sunbathe, or touch the area in question for 4 days following the procedure.
Advantages of hair micropigmentation
This treatment requires great precision to give both men and women a natural look. These are the upsides of hair micropigmentation:
The pigments are harmless and bio-absorbable.
It is less painful than a tattoo, and any discomfort can be almost completely eliminated by applying loco-regional anaesthesia blockers in certain cases.
It does not require going under the knife since it is not a surgical treatment.
The result is immediate. You don't have to wait long to see what is essentially the end result: just 2-4 days, though the colour takes about 4 weeks to stabilise.
It has a short recovery period, during which you can get back to life as usual without the need to take sick leave.
Very little care is needed after micropigmentation. The only major thing to consider is not getting your head wet or sweating for the next 3 days.
There are hardly any side effects; at most, a slight reddening of the skin may occur.
It is very useful for improving the results of other treatments, such as a hair transplant.
It is semi-permanent, so if you aren't satisfied with the result, you simply have to try the procedure again or, if you wish, use a laser to remove the ink remnants.
Disadvantages of hair micropigmentation
There are a few downsides to trichopigmentation. Here are some factors to consider before getting hair micropigmentation:
You will always have the same look if you opt for the shaved effect.
You won't have the same feeling, texture, or protection offered by hair.
It is not a definitive solution, so touch-ups are needed every 3 to 5 years. Of course, these are usually less expensive than the first treatment.
Over time, the colour fades.
Famous hair micropigmentation cases
Some celebrities who have had hair micropigmentation treatments are Vin Diesel, Jamie Foxx, and Alex Beresford.
Alternatives to hair micropigmentation
Micropigmentation doesn't offer the 3D effect that a hair transplant does, so this technique is an alternative with very natural, long-lasting results. However, both techniques can complement each other and help overcome hair loss. Whatever technique you choose, it is critical to contact professionals such as those at Insparya.
Opinions on hair micropigmentation
Doctor Carlos Portinha, the Chief Clinical Officer at Insparya, points out that, while hair micropigmentation is not a true hair treatment, when done well, it can serve as a good complement by simulating shaved hair. The effect depends on the hair the patient has and the skill of the technician who carries out the procedure.
At Insparya, our HMP is only performed by nurses with specific training in this technique, using natural pigments and advanced, very precise devices.
Tags How Long Does Micropigmentation Last Hair Micropigmentation What Is Micropigmentation Tricopigmentation Advantages of Hair Micropigmentation